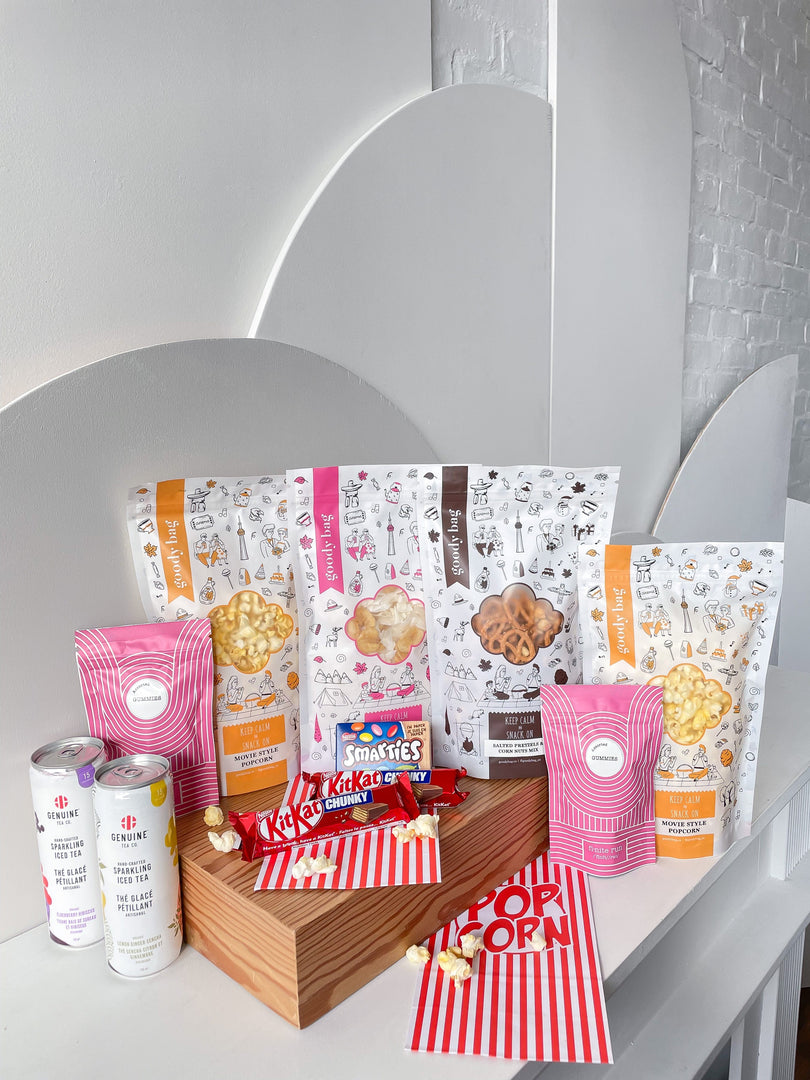 "Home, Host & Staycations" Package Details
Your home has the best movie night seats in the house, so take it home up a notch and you'll wonder why you ever did go to that busy theater. This Movie Night Munchies gift box full of popcorn, candy and other treats and makes spending quality time alone, or with your loved one(s) even better. Binge watch your favorite shows or movies as you indulge in these gourmet treats. There's so much in this kit, Savoury, sweet or crunchy, that no one will have to fight over their favorites.

Movie Not Included.
Gift Box Contents
Two (2) bags of Movie Style Popcorn (60 g each) | by GoodyBag.ca
One (1) bag of Naked Trail Mix (125 g) | by GoodyBag.ca
One (1) bag of Salted Pretzel & Corn Nut Mix (180 g) | by GoodyBag.ca
Two (2) bags of Assorted Gummies (150 g each) | by Finite Run
One (1) box of Smarties (45 g) | by Nestlé
Two (2) KitKat Chunky Chocolate Bars (49 g each) | by Nestlé
One (1) can of Elderberry Hibiscus Sparkling Iced Tea (355 ml) | by Genuine Tea Co.
One (1) can of Lemon Ginger Sencha Sparkling Iced Tea (355 ml) | by Genuine Tea Co.
Warning: Food Allergens May Be Present
Unless otherwise mentioned, our food may contain traces or have come in contact with variety of allergens. such as peanuts, tree nuts, various seeds, eggs, wheat, soy, dairy products and others. These foods may also contain gluten.
There are many alternatives available, so if you require a non-gluten, non-allergen product, please contact us and we'll do our best to accommodate you.
Common Allergen In This Product
Due to the COVID-19 pandemic and the safety guidelines surrounding this new normal, our response times and production times can be delayed. With supply lines in flux, we are processing on a slightly slower schedule. As always, our products are Made-To-Order.
Processing / & Shipping Orders WITH NO Personalization:
Processing time is 3-5 business days of purchase.
Standard Orders WITH Personalization:
After your approval, processing time is currently between 1-3 business days.
These shipping time frames below are NOT GUARANTEED, as factors such as weather, the COVID-19 pandemic, and mail volume can affect delivery. In our experience 90% show up on time, 5% are slightly late, 4% are very late, and 1% just get lost or endlessly circle North America for no reason. It's very frustrating, but these days it's unavoidable. No carriers guarantee delivery. Most of time time your package arrives much earlier, so these times are conservative.
Estimated Shipping Times:
Ontario / Quebec Orders:

2-5 Business Days EST Shipping Time.

Other Canadian Provinces & Territories:

2 Weeks EST Shipping Time.

United States Orders:

3 Weeks EST Shipping Time.

Internation Delivery (Tracked Delivery Only):

Times Vary, but typically between 3-4 Weeks (many times much sooner).