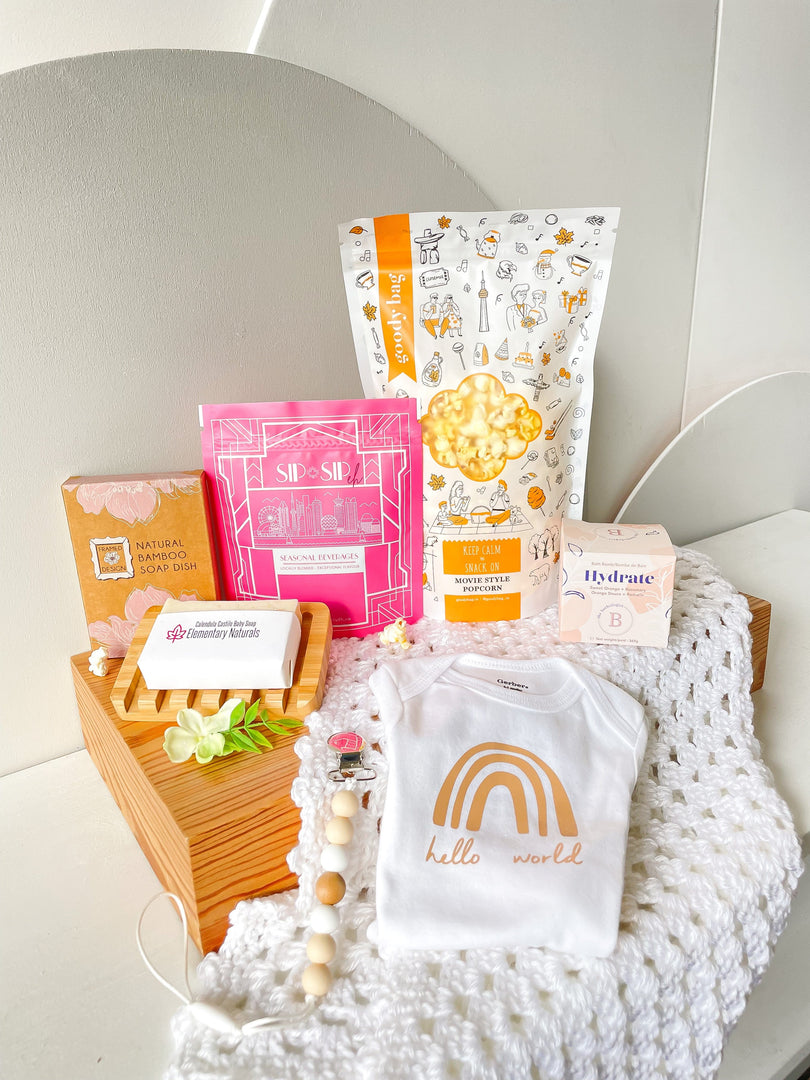 "New Mom" Package Details
The "5th Trimester" is nature's way of testing how long a body can function without enough rest and nourishment only fueled by adrenaline, coffee and a baby's giggles. It's a time of great joy and excitement, a whirlwind of emotions and neglect of even the simple things that a new Mother needs. This gift box is packed with small indulgences for a new Mothers and beautiful baby essentials. The bath set & hot tea is perfect for taking a break, locking the bathroom door with a Snack, a Sip & a fizzy Soak while your little one chews on their all-natural pacifier clip and wearing their new trendy onesie.

A perfect kit for that Mom's perfect new kid, because your baby is your favourite reason to lose sleep.
Gift Box Contents
One (1) "Hello World" Baby Onesie (Sized 0-3 Months) | by Paulina
One (1) Hand-Made 100% all-Natural Cotton Baby Blanket (25" x 25") | by Pine Cabin Stiches
One (1) all-Natural Baby-Safe Wooden Pacifier Clip | by Jace and Jules
One (1) "Hydrate" Sweet Orange & Rosemary Bath Bomb | by Bathologist
One (1) Bamboo Soap Dish | by Framed.Design
One (1) bar of Organic Baby Bath Soap | by Elementary Naturals
One (1) bag of Movie Style Popcorn (60 grams) | by GoodyBag.ca
One (1) pouch of "Neverending Smile" Herbal Tea (70g) | by SipSipEh
Happy with what you see or received?

We would love if you could our first awesome customer to write a review for the "Baby Stuff, Bath Set & Hot Tea" Baby & New Mother .
Warning: Food Allergens May Be Present
Unless otherwise mentioned, our food may contain traces or have come in contact with variety of allergens. such as peanuts, tree nuts, various seeds, eggs, wheat, soy, dairy products and others. These foods may also contain gluten.
There are many alternatives available, so if you require a non-gluten, non-allergen product, please contact us and we'll do our best to accommodate you.
Common Allergen In This Product
Due to the COVID-19 pandemic and the safety guidelines surrounding this new normal, our response times and production times can be delayed. With supply lines in flux, we are processing on a slightly slower schedule. As always, our products are Made-To-Order.
Processing / & Shipping Orders WITH NO Personalization:
Processing time is 3-5 business days of purchase.
Standard Orders WITH Personalization:
After your approval, processing time is currently between 1-3 business days.
These shipping time frames below are NOT GUARANTEED, as factors such as weather, the COVID-19 pandemic, and mail volume can affect delivery. In our experience 90% show up on time, 5% are slightly late, 4% are very late, and 1% just get lost or endlessly circle North America for no reason. It's very frustrating, but these days it's unavoidable. No carriers guarantee delivery. Most of time time your package arrives much earlier, so these times are conservative.
Estimated Shipping Times:
Ontario / Quebec Orders:

2-5 Business Days EST Shipping Time.

Other Canadian Provinces & Territories:

2 Weeks EST Shipping Time.

United States Orders:

3 Weeks EST Shipping Time.

Internation Delivery (Tracked Delivery Only):

Times Vary, but typically between 3-4 Weeks (many times much sooner).