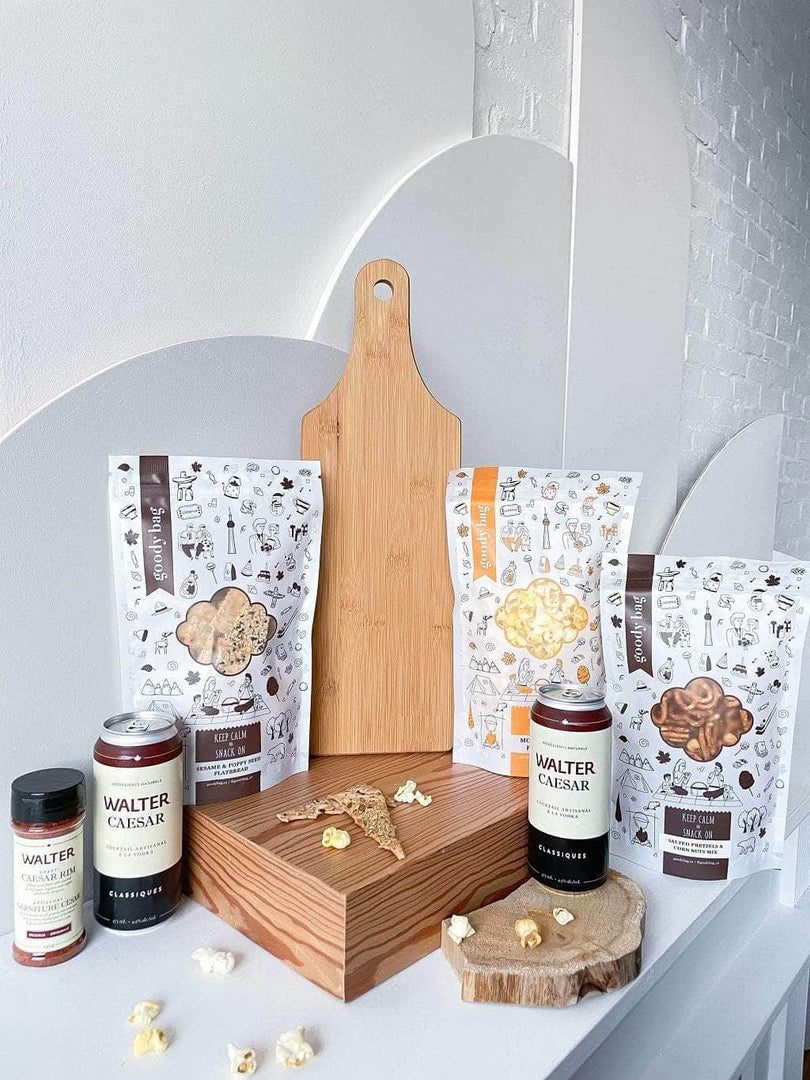 "Alcohol and Non Alcoholic " Package Details
Not just for Sunday Brunch anymore, the Bloody Caesar Cocktail Kit & Savoury Snacks box is geared toward the "The Bloody Ceasar" lover in your life. It's made even more delicious with Walter's artisinal quality ingredients. All treats curated in this box complement your experience with this drink.  Perfect for snacking and entertaining, it has all your cravings covered - Savoury, Sweet and Spicy. Topped off with a personalized engraved charcuterie board, this package is versatile for any occasion throughout the year.
Gift Box Contents
One (1) Personalized L

aser-Engraved Charcuterie Board

Two (2) Cans of Walter Craft Caesar - Classic (473 ml each)
One (1) jar of Walter Caesar Rim Seasoning (80 g) [Versatile - Use on Popcorn, Fish, etc...]
One (1) bag of Sesame & Poppy Seed Flatbread (150 g) | by GoodyBag.ca
One (1) bag of Salted Pretzels and Corn Nuts Mix (150 g) | by GoodyBag.ca
One (1) bag of Movie Style Popcorn (60g) | by GoodyBag.ca
Happy with what you see or received?

We would love if you could our first awesome customer to write a review for the Bloody Caesar Cocktail Kit & Savoury Snacks .
Warning: Food Allergens May Be Present
Unless otherwise mentioned, our food may contain traces or have come in contact with variety of allergens. such as peanuts, tree nuts, various seeds, eggs, wheat, soy, dairy products and others. These foods may also contain gluten.
There are many alternatives available, so if you require a non-gluten, non-allergen product, please contact us and we'll do our best to accommodate you.
Common Allergen In This Product
Standard Orders WITH Personalization
Using the Online Tool: The Preview Button is Considered the Digital Proof.
Manually by Webforms, Phone, or Digital Messages (Instagram, Email, etc...): You'll receive a Initial Digital Proof within 3-5 business days of Purchase.
Timing of Final Proof Depends On Complexity and Further Changes
Manual Custom Work: Please contact us with the proposed design in the requested format or what you have and we'll let you know if it can be done!
Please send Original artwork as file type: ai, jpg/jpeg or svg.
*An additional fee may apply depending on the size and complexity of the design.
Note: Any pixilation / blurriness shown in the provided artwork will reflect onto the final product. Any thin lines may not show at all (if engraving) or will be very fragile (if laser cutting). For printing on stickers, paper, etc... the resolution of the image will be reflect on the final product as well. Please provide the best quality as possible. By submitting a personal design you are agreeing to the quality as provided.
For Complete Details On Our Personalization Policies Please See Our FAQ Page here:
Due to the COVID-19 pandemic and the safety guidelines surrounding this new normal, our response times and production times can be delayed. With supply lines in flux, we are processing on a slightly slower schedule. As always, our products are Made-To-Order.
Processing / & Shipping Orders WITH NO Personalization:
Processing time is 3-5 business days of purchase.
Standard Orders WITH Personalization:
After your approval, processing time is currently between 1-3 business days.
These shipping time frames below are NOT GUARANTEED, as factors such as weather, the COVID-19 pandemic, and mail volume can affect delivery. In our experience 90% show up on time, 5% are slightly late, 4% are very late, and 1% just get lost or endlessly circle North America for no reason. It's very frustrating, but these days it's unavoidable. No carriers guarantee delivery. Most of time time your package arrives much earlier, so these times are conservative.
Estimated Shipping Times:
Ontario / Quebec Orders:

2-5 Business Days EST Shipping Time.

Other Canadian Provinces & Territories:

2 Weeks EST Shipping Time.

United States Orders:

3 Weeks EST Shipping Time.

Internation Delivery (Tracked Delivery Only):

Times Vary, but typically between 3-4 Weeks (many times much sooner).