Best of Canada
You Had Me At Maple
Holiday Treat Box*
Exclusive Limited-Time Offer
for RBC U.S. Special Events
Regular price

$6900

USD (plus tax)

($114.00 OF RETAIL VALUE)
Give a unique Canadian Gift. "Don't forget to personalize!"
It's that time of year again!

Specially selected for RBC Bank cardholders, surprise your loved one this year with a maple themed gift box that's highlights the rich and delightful flavors of maple – perfect for either side of the border. Gift or enjoy yourself a curated ensemble that captures the heart and soul of the Great White North's maple-rich bounty. Each item is arranged to evoke the rustic elegance of Canadian landscapes. Topped with a personalized maple leaf holiday ornament, this gift box is an invitation to savor the true essence of Canada's maple-infused treasures – continuing spirit of #CanadaUnited. This exclusive offering is just one of the many perks RBC cardholders enjoy. Hurry, quantities are limited! Order by December 11th for delivery before the 23rd December 2023.

*Limited time offer with free shipping in Canada and the U.S. until December 11th, 2023. Limited quantities available.1
Snack...
Sip...
Canadian Eh?
PACKAGE FOR ONE (1) TREAT BOX3 INCLUDES:
One (1) Authentic Canadian Maple Syrup (250ml) | by Love's Sweetness

One (1) Maple Black Tea (70g) | by SipSipEh

One (1) Korean Tea Spoon (Black or Rose Gold) | by SipSipEh
One (1) Maple Crunch Shortbread Cookies (125g) | by The Shortbread Bakery

One (1) Gourmet Maple Swirl Milk Chocolate Bar (100 grams) | by Donini
One (1) Maple BBQ Seasoning Shaker (160g) | by Finite Run
One (1) Fine Grained Maple Sugar Shaker (50g) | by Brien Maple Sugar
Two (2) Prepackaged Maple Hard Candies | by Local Maple Farms

One (1) Personalized Maple Leaf Holiday Ornament | by Framed.Design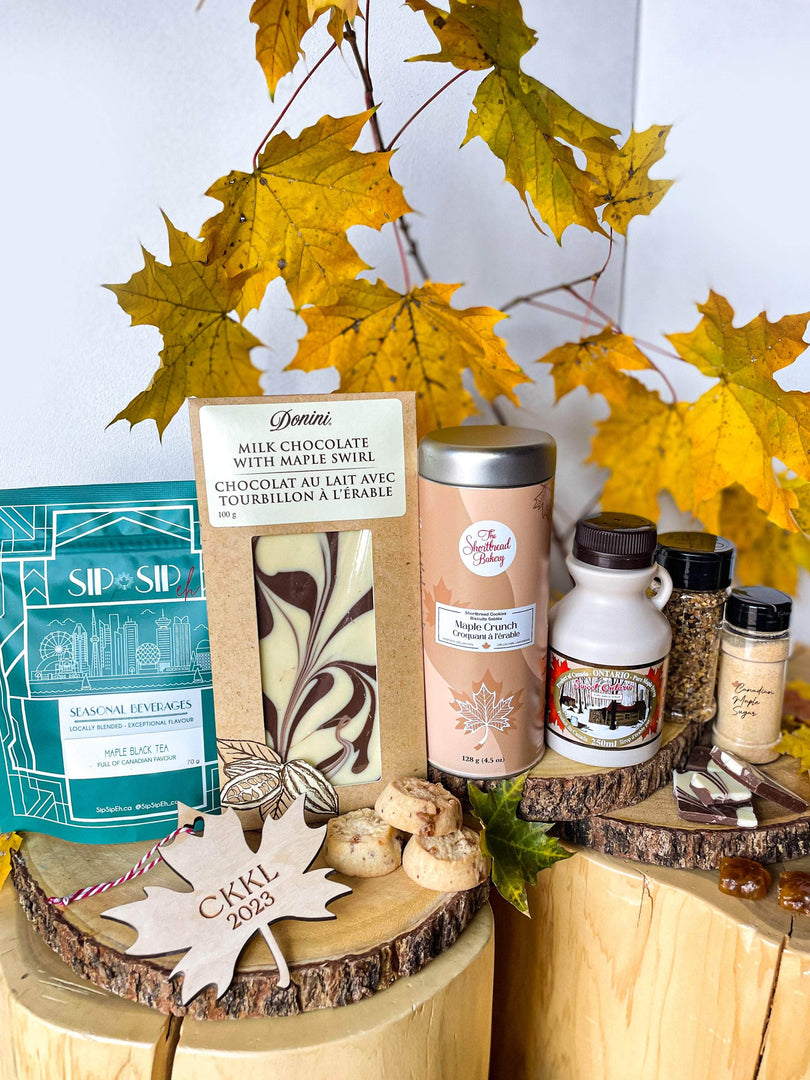 TREAT BOX OFFER DETAILS:
WHERE: Available in select regions in Canada and United States only2.
OFFER AVAILABLE: Until Monday, December 11th 2023 while quantities last.
PACKAGE PRICE FOR ONE (1) TREAT BOX: $69.00 (USD) plus applicable taxes (free shipping)1.
Only 300 packages are available on a first come, first served basis, and items may be substituted based on availability. There is a limit of five (5) boxes per client.
All orders received by December 11th, 2023 will be delivered on or around December 23rd, 2022 or earlier4.
Warning: Food Allergens May Be Present
Terms & Conditions
* SweetEvent.ca, not RBC Bank, is responsible for the fulfillment of this offer and the products available in the treat box set purchase. Please direct all inquiries related to your purchase to SweetEvent.ca. Offer may be modified or withdrawn at any time.
1 Total Client purchase amount must be charged in full to an RBC Card. Packages may not be transferable and should not be resold. No refunds and no exchanges subject to merchant's obligations under applicable law..
2 Packages available for purchase and delivery in the following Canadian Provinces and Territories: Alberta, British Columbia, Manitoba, New Brunswick, Newfoundland, Northwest Territories, Nova Scotia, Nunavut, Ontario, Prince Edward Island, Quebec, Saskatchewan and Yukon and in the 48 Contiguous United States (excluding Hawaii and Alaska).
3 Brands listed are subject to change and availability without notice. In the event of product unavailability of a certain item, substitutions, which may include brand substitutions may apply and item will be replaced with an equal value item.
4 Most packages ordered will be shipped through Canada Post, UPS or USPS, although we reserve the right to use any carrier for fulfillment. Shipping times are not guaranteed. SweetEvent.ca will make best efforts to ensure the treat box arrives according to the timeframe listed above.