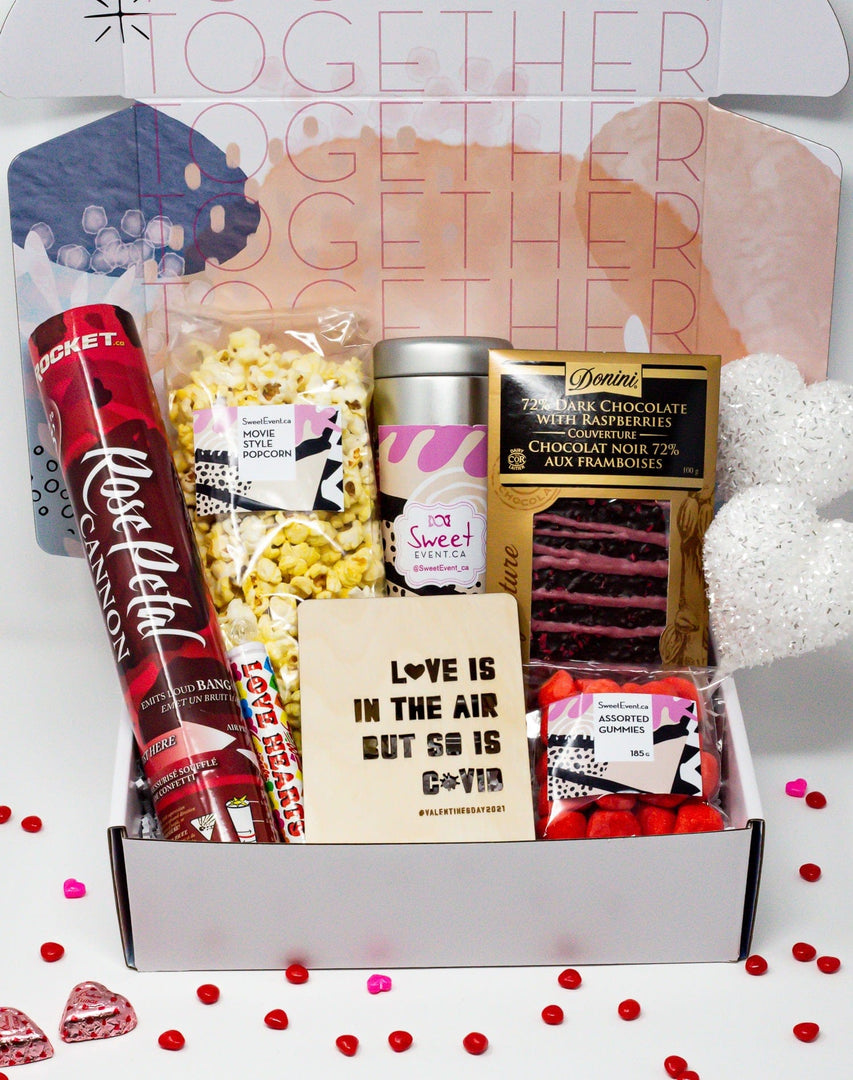 Stay warm, safe & indulge a little with this Valentine's Day gift box. Carefully curated by SweetEvent, you'll be cradling a cup of our delicious "Love Potion Tea", while sampling a Donini's craft limited edition chocolate bar and other treats. A Laser Engraved keepsake and Rose Petal Cannon will top the evening off with a BANG!
We're in this "Together" even if some of us have to be apart.
This box includes products from many Canadian-owned businesses (including ours) in support of #CanadaUnited. 1

WHERE: Available in Ontario2
PURCHASE WINDOW FOR THIS OFFER: Monday, Feb 1st, 2021 – Sunday, Feb 7th, 2021
PACKAGE FOR ONE (1) GIFT BOX3 INCLUDES:
One (1) Rose Petal Cannon - Up To ~4.6M/15FT in Height (ADULT USE ONLY)

One (1) Wooden Laser Engraved Wooden Keepsake on Baltic Birch (Love & Covid is in the Air)

One (1) bag of Movie Style Popcorn (125 grams)


One (1) bag of Red Gummy Bear Treats (65 grams)

One (1) Loose Leaf "Love Potion" Locally Blended Tea - Limited Edition (100 grams)

One (1) Donini's Milk Chocolate

Sweetheart bar - Limited Edition

(100 grams)
PACKAGE PRICE FOR ONE (1) GIFT BOX: $49.95 (CAD) plus applicable taxes (free shipping)4
ONLY thirty (30) packages are available on a first come, first served basis. There is a limit of five (5) boxes per Client.
All orders received by Feb 7th, 2021 will be delivered on or around Feb 12th, 2020 or earlier4
Terms & Conditions
1 Packages may not be transferable and should not be resold. No refunds and no exchanges subject to merchant's obligations under applicable law..
2 Packages available for purchase and delivery within Ontario. Sorry, we don't think we can get it anywhere else on-time due to Covid-19 delays.

3 Brands listed are subject to change and availability without notice. In the event of product unavailability of a certain item, substitutions, which may include brand substitutions may apply and item will be replaced with an equal value item.
4 Most packages ordered will be shipped through Local Couriers or Canada Post although we reserve the right to use any carrier for fulfillment to get around Covid-19 delays. Shipping times ARE NOT guaranteed due to the Covid-19 pandemic. SweetEvent.ca will make BEST EFFORTS (we will try our hardest) to ensure gift box arrives in time for Valentine's Day according the time-frame listed above.