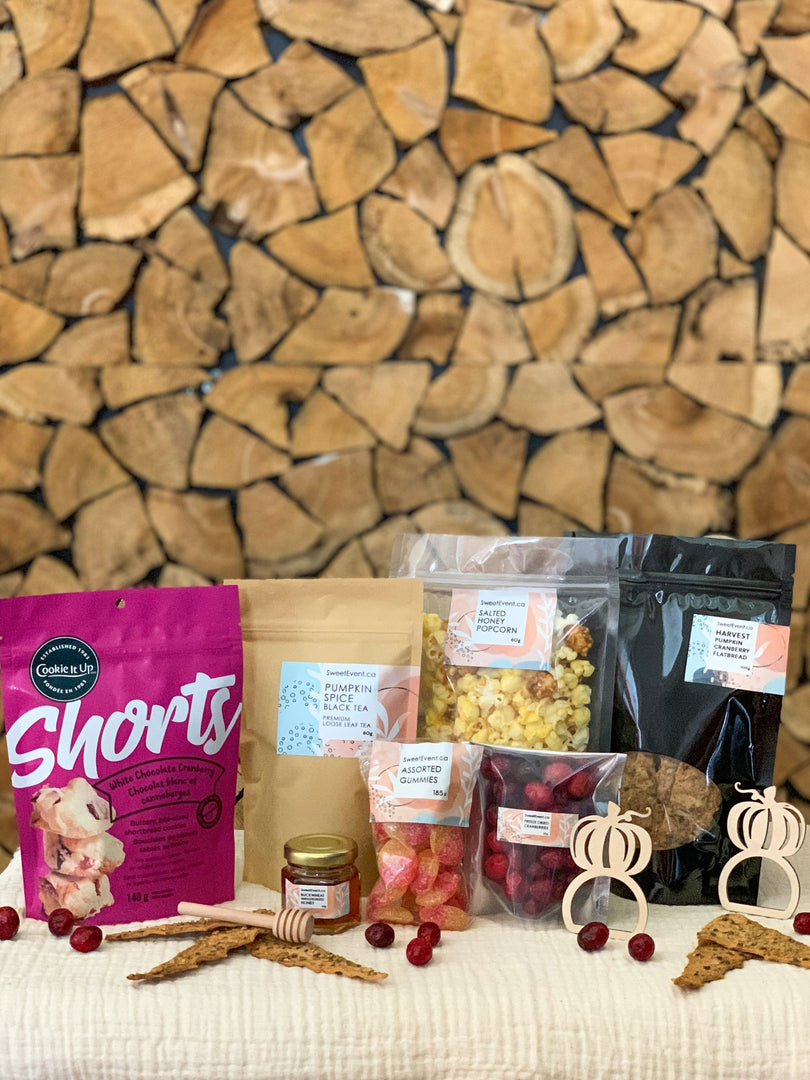 American Express® Cardmembers can indulge this Thanksgiving with a selection of fall treats from SweetEvent.ca. Enjoy this special, curated gift box for only $54.95 (CAD) plus applicable taxes, that includes a selection of sweet treats, tea and decorative Thanksgiving items.1
WHERE: Available across Canada2
AMERICAN EXPRESS® PURCHASE WINDOW FOR THIS OFFER: Thursday, September 23, 2021 - Sunday, September 26, 2021
PACKAGE FOR ONE (1) GIFT BOX3 INCLUDES:
One (1) harvest pumpkin cranberry flat bread (100g) 
One (1) buckwheat unpasteurized honey (45g) 
One (1) bag of freeze-dried cranberries (20g)
One (1) bag of assorted gummies (185g) 
One (1) bag of pumpkin spice black loose-leaf tea (80g)
One (1) bag of salted honey popcorn (60g)
One (1) pouch of white chocolate cranberry shortbread cookies (140g)
Two (2) pumpkin napkin rings
One (1) honey dipper
PACKAGE PRICE FOR ONE (1) GIFT BOX: $54.95 (CAD) plus applicable taxes (free shipping)4
One thousand (1,000) packages are available on a first come, first served basis. There is a limit of five (5) packages per Cardmember.
All orders received by September 26, 2021 will be delivered on or around October 8, 20214
Terms & Conditions 
1 Purchase must be charged in full to an American Express Card. Subject to availability and to event and ticketing terms, restrictions, verification procedures and fees. Tickets and packages may not be transferable and should not be resold. No refunds and no exchanges subject to merchant's obligations under applicable law.
2 Packages available for purchase and delivery in Alberta, British Columbia, Manitoba, New Brunswick, Newfoundland, Northwest Territories, Nova Scotia, Nunavut, Ontario, Prince Edward Island, Quebec, Saskatchewan and Yukon. 
3 Brands listed are subject to change and availability without notice. In the event of product unavailability of a certain item, substitutions, which may include brand substitutions may apply and item will be replaced with an equal value item.
4 Packages ordered will be shipped through SweetEvent.ca through a third-party shipping company. Exact delivery will be based upon the shipping company's delivery timing. American Express does not guarantee delivery times and is not responsible for any delays, damages or non-delivery of packages.
American Express is not responsible for the fulfillment of this offer.
®™:  Used by Amex Bank of Canada under license from American Express.