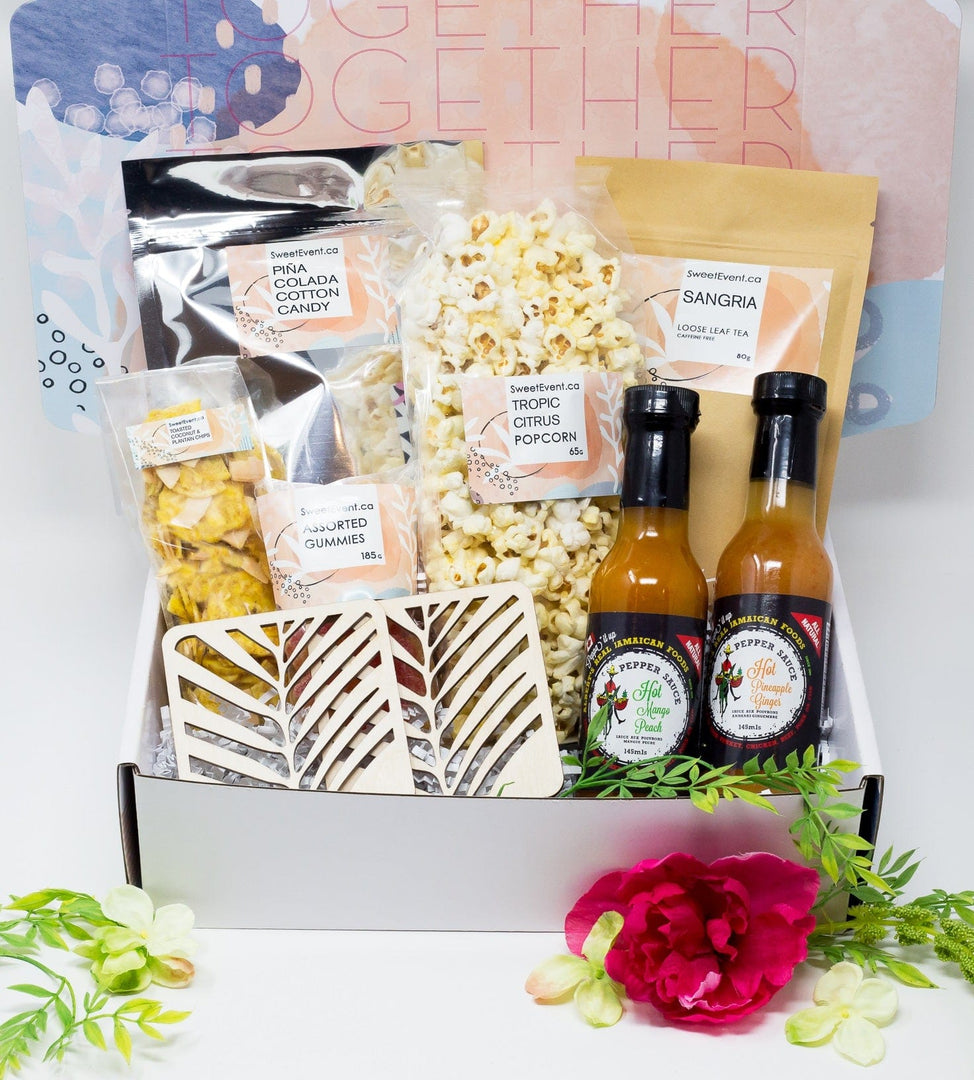 American Express® Cardmembers can indulge this summer with a selection of themed treats from SweetEvent.ca. Enjoy this exclusive, curated gift box offer for only $49 (CAD) plus applicable taxes, that includes a selection of locally made hot sauces, sweet and savory treats, sangria tea and decorative summer items.1
WHERE: Available across Canada2
AMERICAN EXPRESS® PURCHASE WINDOW FOR THIS OFFER: Monday, June 14th , 2021 – Monday, June 21st , 2020
PACKAGE FOR ONE (1) GIFT BOX3 INCLUDES:
One (1) bottle of locally made [Albert's Real Jamaican Foods] Hot Mango Peach pepper sauce (145ml )
One (1)

bottle of 

locally made

 [

Albert's Real Jamaican Foods]

 Hot Pineapple Ginger pepper sauce (145ml )
One (1) bag of citrus popcorn (65 grams)
One (1) bag of peach gummies (185 grams)
One (1) bag of Pina Colada Cotton Candy (35 grams)
One (1) bag of Sangria tea [Served Hot, Cold or with Alcohol] (80 grams)
One (1) bag of toasted coconut chips and plantains tropical mix (75 grams) 
Two (2) wooden "PALM" coasters
PACKAGE PRICE FOR ONE (1) GIFT BOX: $49.00 (CAD) plus applicable taxes (free shipping)4
One thousand (1,000) packages are available on a first come, first served basis. There is a limit of five (5) packages per Cardmember.
All orders received by June 21st, 2021 will be delivered on or around July 5th , 20214
Terms & Conditions 
1 Purchase must be charged in full to an American Express Card. Subject to availability and to event and ticketing terms, restrictions, verification procedures and fees. Tickets and packages may not be transferable and should not be resold. No refunds and no exchanges subject to merchant's obligations under applicable law.
2 Packages available for purchase and delivery in Alberta, British Columbia, Manitoba, New Brunswick, Newfoundland, Northwest Territories, Nova Scotia, Nunavut, Ontario, Prince Edward Island, Quebec, Saskatchewan and Yukon. 
3 Brands listed are subject to change and availability without notice. In the event of product unavailability of a certain item, substitutions, which may include brand substitutions may apply and item will be replaced with an equal value item.
4 Packages ordered will be shipped through Canada Post or UPS, although due to the Covid-19 pandemic SweetEvent.ca reserves the right to use any carrier for fulfillment. Exact delivery will be based upon the carrier's delivery timing. American Express does not guarantee delivery times and is not responsible for any delays, damages or non-delivery of packages.
American Express is not responsible for the fulfillment of this offer.
®™:  Used by Amex Bank of Canada under license from American Express.
Ask our creative team about the theme of your event. Many accessories are INCLUDED in all stations.
Some decor (such as banners) can be available for an extra fee.
Delivery within Toronto Is included in the price
Travel outside Toronto MAY incur an extra fee based on region.
To secure your date, a non-refundable 50% deposit is due on all booked events.
Due to Covid-19 uncertainties , exceptions to this rule MAY be made on a case-by-case basis.