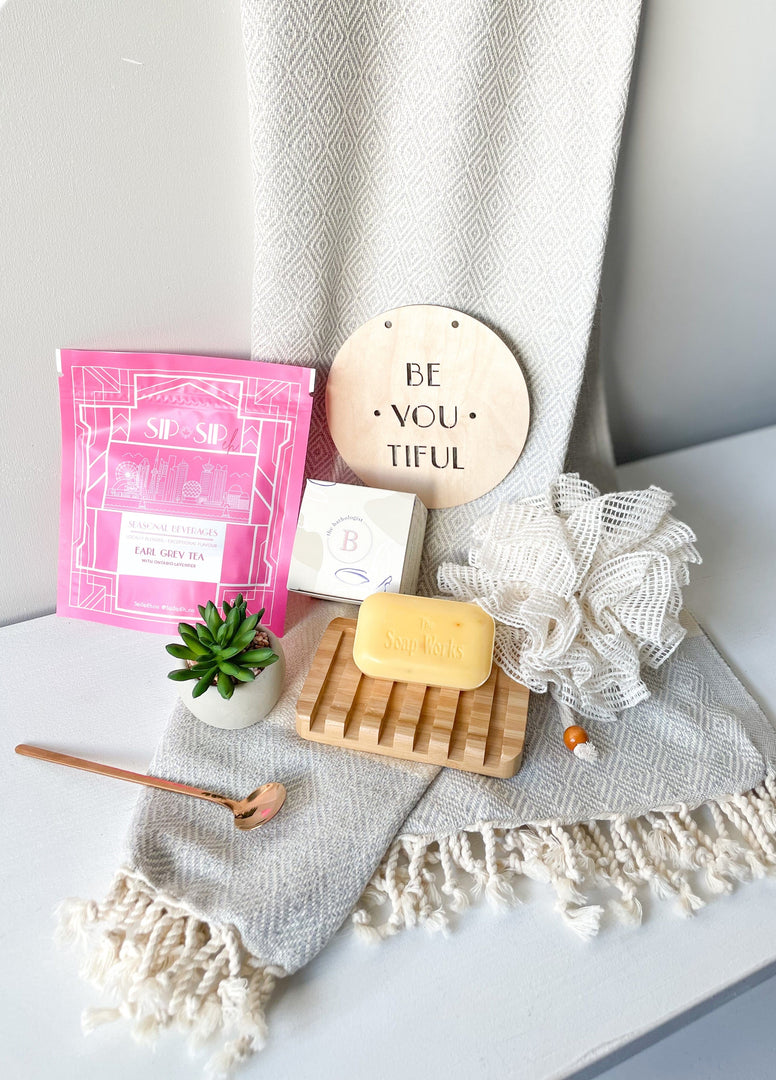 Let Mom Know How Much You Care

Share the Best of Canada for Mother's Day
Share some spa treats with someone you love (or yourself) with a gift that offers relaxation and comfort – on either side of the border. This special treat box is created by SweetEvent.ca and stocked with the necessities for a little indulgence – with Canadian-sourced specialties in the continuing spirit of #CanadaUnited.
*Limited time offer with free shipping in Canada and the U.S. until April 19, 2022. Limited quantities available.1


Versatile towel
for bath, beach,
home & more
WHERE: Available in Canada and Contiguous United States2
OFFER AVAILABLE: Until April 19th, 2022
PACKAGE FOR ONE (1) GIFT BOX3 INCLUDES:
One (1) Turkish Cotton Towel with Handspun Tassels | by Pokoloko
One (1) Natural Rami Bath Poof | by Framed.Design
One (1) Oatmeal Complexion Bar Soap | by SoapWorks
One (1) Bamboo Soap Dish | by Framed.Design
One (1) "Recover" Eucalyptus & Cedar Wood Bath Bomb | by Bathologist
One (1) Succulent Potted Plant (artificial) | by Framed.Design
One (1) Korean Tea Spoon (Rose Gold) | by SipSipEh
One (1) Earl Grey Tea with Ontario Lavender [Served Hot, Cold or with Alcohol] (80 grams) | by SipSipEh

One (1) Baltic Birch Laser Engraved "Be • You •Tiful" Plaque | by Framed.Design
PACKAGE PRICE FOR ONE (1) GIFT BOX: $54.00 (USD) plus applicable taxes (free shipping)4
Six hundred (600) packages are available on a first come, first served basis. There is a limit of five (5) boxes per Client.
All orders received by April 19th, 2022 will be delivered on or around May 6th, 2022 or earlier4
Sip...
Recover...
Relax...
Terms & Conditions 
1 Total Client purchase amount must be charged in full to an RBC Card.  Packages may not be transferable and should not be resold. No refunds and no exchanges subject to merchant's obligations under applicable law..
2 Packages available for purchase and delivery in the following Canadian Provinces and Territories: Alberta, British Columbia, Manitoba, New Brunswick, Newfoundland, Northwest Territories, Nova Scotia, Nunavut, Ontario, Prince Edward Island, Quebec, Saskatchewan and Yukon and in the 48 Contiguous United States (excluding Hawaii and Alaska).

3 Brands listed are subject to change and availability without notice. In the event of product unavailability of a certain item, substitutions, which may include brand substitutions may apply and item will be replaced with an equal value item.
4 Most packages ordered will be shipped through Canada Post or USPS, although we reserve the right to use any carrier for fulfillment. Shipping times are not guaranteed due to the Covid-19 pandemic. SweetEvent.ca will make best efforts to ensure the gift box arrives according to the timeframe listed above.
RBC Bank is not responsible for the fulfillment of this offer.