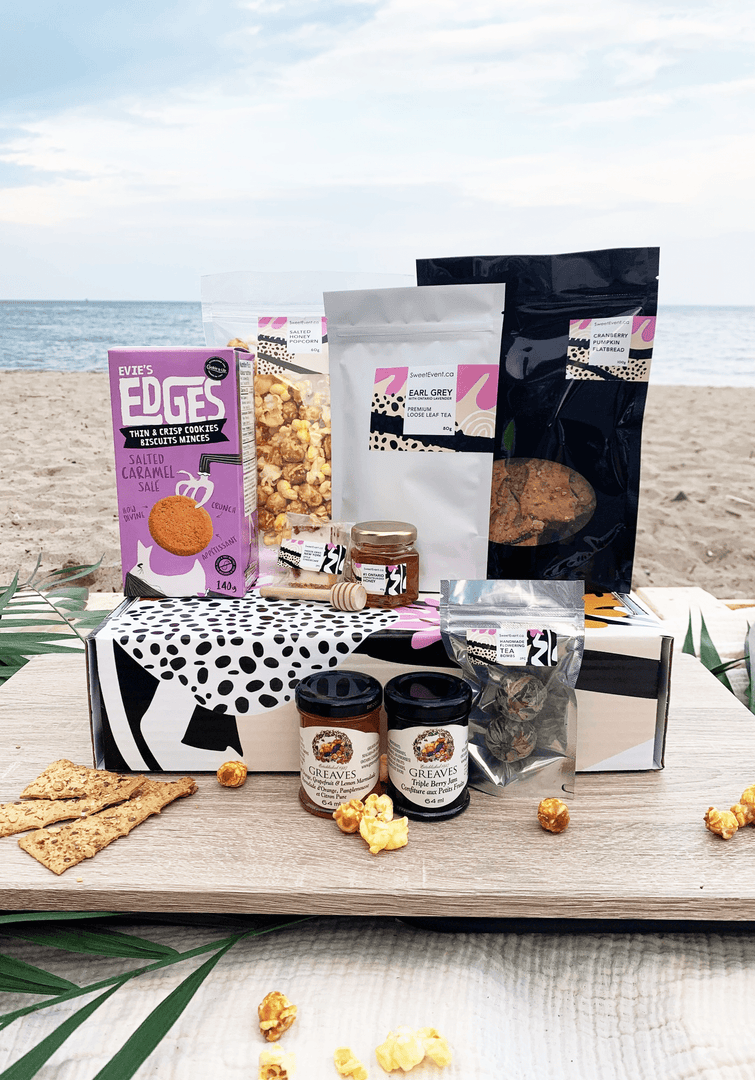 Specially selected for RBC credit cardholders, this curated "Picnic Delight" box is the perfect treat for your senses, and can be enjoyed indoors or outdoors. Indulge in a tasty assortment of locally sourced items, created by SweetEvent.ca. You'll LOVE trying the very trendy tea bombs, the delicious marmalade and more.1
WHERE: Available across Canada2
Royal Bank of Canada PURCHASE WINDOW FOR THIS OFFER: Tuesday, July 27th 2021 - Friday, August 6th 2021
PACKAGE FOR ONE (1) GIFT BOX3 INCLUDES:
One (1) bag of Earl Grey Tea with Ontario Lavender [Served Hot, Cold or with Alcohol] (80 grams)

One (1) bag of handmade Flowering Tea Bombs (2 pieces)


One (1) box of "Evie's" Salted Caramel gourmet cookies (140 grams)
One (1) bag of "Via Oliveto Bakery" Cranberry Pumpkin Flatbread (100 grams)
One (1) bag of Freeze-Dried New York style cheesecake (2 pieces)
One (1) bag of salted honey popcorn (60 grams) 


One (1) jar of Raw Wildflower Honey (43 ml)
One (1) jar of "Greaves" Three Fruit Marmalade (64 ml)


One

 (1

) jar of "Greaves" 

Triple Berry Jam

 (64 ml)

One (1) wooden honey stick
PACKAGE PRICE FOR ONE (1) GIFT BOX: $49 (CAD) plus applicable taxes (free shipping)4
One thousand five-hundred (1500) packages are available on a first come, first served basis. There is a limit of three (3) boxes per RBC credit cardholder.
All orders received by August 6th, 2021 will be delivered by September 7th, 2021 for Yukon, Northwest Territories and Nunavut, by August 31st 2021 for PEI & Labrador/ Newfoundland and by August 24th 2021 for all other provinces.4

Terms & Conditions 
1To take advantage of this offer, you must visit the link on this page and purchase the SweetEvent.ca gift box using your RBC credit card between July 27 and August 6, 2021 or while quantities last ("Offer Period").  Gift boxes may not be transferable and should not be resold. No refunds and no exchanges subject to merchant's obligations under applicable law.
2 Packages available for purchase and delivery in the following Canadian Provinces and Territories: Alberta, British Columbia, Manitoba, New Brunswick, Newfoundland, Northwest Territories, Nova Scotia, Nunavut, Ontario, Prince Edward Island, Quebec, Saskatchewan and Yukon.

3 Brands listed are subject to change and availability without notice. In the event of product unavailability of a certain item, substitutions, which may include brand substitutions may apply and item will be replaced with an equal value item.
4 Most packages ordered will be shipped through Canada Post, although we reserve the right to use any carrier for fulfillment. Shipping times are not guaranteed due to the Covid-19 pandemic. SweetEvent.ca will make best efforts to ensure gift box arrives according the timeframe listed above.
SweetEvent.ca, not Royal Bank of Canada, is responsible for the fulfillment of this offer. Please direct all inquiries related to your purchase to SweetEvent.ca.  Offer may be modified or withdrawn at any time.
Warning: Food Allergens May Be Present
Unless otherwise mentioned, our food may contain traces or have come in contact with variety of allergens. such as peanuts, tree nuts, various seeds, eggs, wheat, soy, dairy products and others. These foods may also contain gluten.
Common Allergen In This Product
Honey
Various Nuts & Tree Nuts
Dairy
Oat
Salted Honey Popcorn 60g | Best Before October 24th 2021 Buttersalt (NFD – No Food Dye)
Ingredients: Honey, Salt, artificial flavour, riboflavin.
(Contains highly refined soy oil, contains no added or manufactured diacetyl; May contain traces of dairy and sulphites)

Earl Grey With Ontario Lavender LOOSE LEAF TEA 80g | Best Before Date varies greatly depending on storage. Store in a dark, dry location.
Ingredients: Black tea, Bergamot essential oil, Ontario Lavender
Formulated by a Certified Tea Master with over 38 years experience. Typically distributed only to restaurants & cafes this Earl Grey tea is blended and packed at the on-site facility just for SweetEvent. Limited quantities made in small batches for seasonal promotions.

Blooming Tea Bombs | Best Before Date varies greatly depending on storage. Store in a dark, dry location. | Canadian Artisanal Tea Company
Blooming tea is a special category of Chinese tea, sewn by hand with flowers that beautifully "blooms" in your teapot or tea ware right before your eyes. It is a healthy and luxurious tea drinking experience fit for royalty. Traditionally blooming tea is made of a base of green tea, along with flowers that have been scented. As you steep your blooming tea bulb- you enjoy a beautiful visual experience as it slowly unfurls and is majestically displayed in your glassware. Flavors vary from traditional jasmine green tea to exotic fruit flavors and can be steeped multiple times without releasing any bitterness! Each individual tea ball can be used at least 3 times within a 12-hour period. Infuse your blooming tea directly in your teapot so you nothing will hinder this visual experience.
Grade: Artisan Handcrafted | Caffeine / Antioxidant Level: Low / Very High
Ingredients: Green tea, Chrysanthemum Lily + Jasmine + Osmanthus blossoms
Teas has been Blended and packaged since 1978 | Locally packaged and blended in Etobicoke, Canada for ultimate freshness

Cranberry Pumpkin Flatbread | by Via Oliveto Bakery | Best before Jan 2022
Since 1988, Oliveta Bakery has been providing artisanal flatbreads for retail and restaurants. While not open to the public, you will find their gourmet products through mostly restaurants, tea-shops and boutique resellers in the GTA. The Cranberry Pumpkin Flatbread is one of the best Canadian-Made flatbreads we've tried and has a subtle taste so it's perfect with jams, marmalades and other condiments.
Ingredients - Unbleached Canadian wheat flour, whole grain Canadian wheat flour, 100% Italian Extra Virgin Olive Oil, dried cranberry, pumpkin seed, flax seed. Yeast Free Trans-fat Free No additives, no preservatives, no artificial colours or flavours.

Clover Honey | by Royal Bee | No expiration date on honey
From clover to buckwheat, Ontario has a lot of busy bees. This unpasteurized honey from local beehives is perfect for our tea, a great addition for a cheese board or just try a taste with our flat bread. Clover honey is quite popular due to its sweet yet mildly floral taste. It is light in colour and easy to digest while being arguably the strongest antibacterial amongst all other kinds of honey. This power food really lasts a long time, especially since archaeologists found pots of honey nearly 3000 years old that were still edible! and… so you don't get your fingers sticky, we've included a cute wooden dipper to go along with it!
Ingredients: Clover Honey | Harvested & Bottled in Newcastle, Ontario

Three Fruit Marmalade & Triple Berry Jam | by Greaves | Best before date on package
Since 1927, Greaves has been making old-fashioned jams, marmalades and condiments using time-honored, hand-stirred small batches in stainless-stee kettles. Focused on producing from the "Niagara Fruit Belt", their products are authentically Canadian with no pectin or preservatives added! www.greavesjams.com/shop Discount Code SWEET10
Ingredients: Provided on product label

Salted Caramel Cookies | Evie's Edges by Cookie It Up | Best before date on package
Paige Sillcox founded Cookie It Up in 1983 when she was only 21 years old in her mother's kitchen in King City Ontario. Demand for her gourmet product quickly took off and the company expanded into new space with more employees to keep up with demand. To this day, their creations continue to be crafted in small batches, with wholesome ingredients and no preservatives. These thin and crisp cookies have a rich caramel flavour and a light sprinkling of sea salt.
Ingredients: Provided on product label

Freeze Dried Cheesecake | Baked by Gizella Pastry [Vancouver, BC] | Best before July 5th 2023
This product contains: Milk, Wheat, Soy and Sulfite

All flavours contain: Cream Cheese, Sour Cream, Sugar
Blueberry contains: Blueberries, water, sugar, glucose, modified corn starch, citric acid, salt, potassium sorbate, sodium benzoate, food colour dyes
Mango contains: Water, Corn Syrup, Sugar, Mango Juice Concentrate, Modified Corn Starch, Natural & Artificial Flavours, Citric Acid, Salt, Agar, Potassium Sorbate, Natural & Artificial Colours, Propylene Glycol, Polysorbate 60, Propyl Gallate, Liquid whole egg, enriched wheat flour.
Chocolate Chip contains: Sugar, Chocolate Liquor, Cocoa Butter, Soy Lecithin, Icing Sugar, Palm Oil Margarine, Whole Grain Wheat Flour, White Confectionery Coating, Modified Corn Starch, Modified Milk Ingredients, Corn Starch, Baking Powder, Canola Oil, Natural Flavour, Molasses, Salt, Xanthan Gum, Sodium Bicarbonate.

Truly a trend in culinary experiences, this limited on-time run of freeze-dried cheesecakes are excusive to this promotion. You can try astronauts snacks for a limited time.