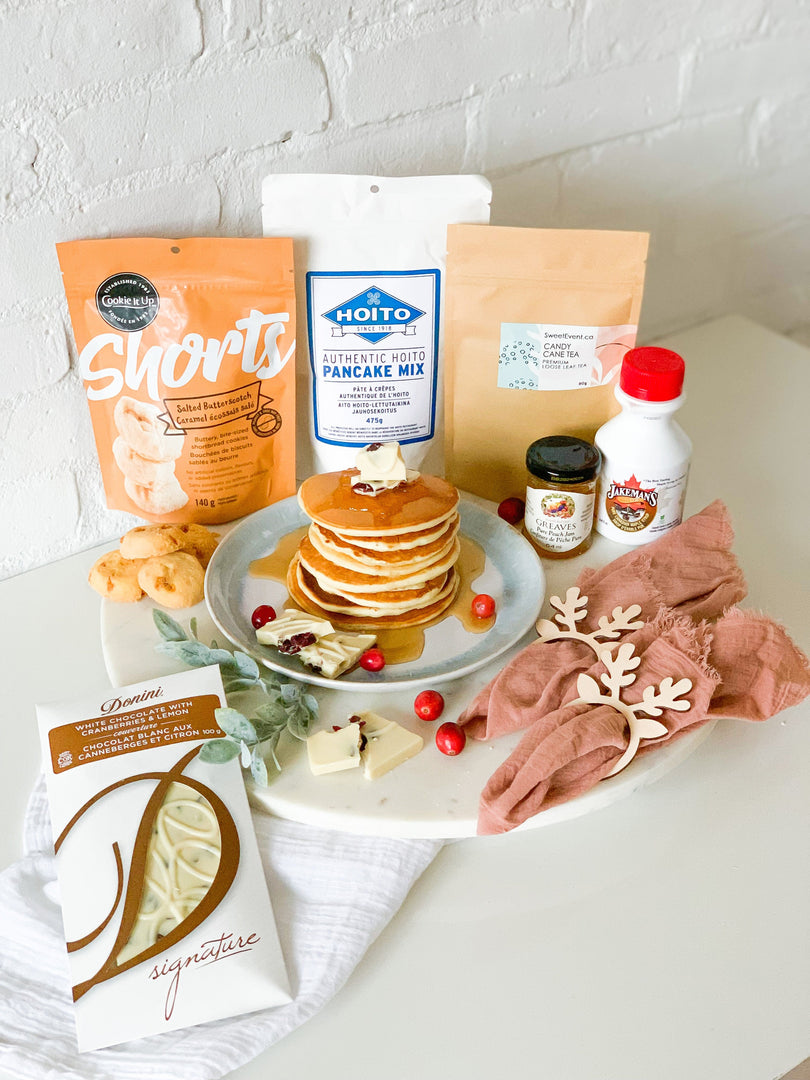 Give the gift of a luxurious holiday breakfast and support the reopening of a national landmark.
The smell of syrup-drizzled pancakes and candy cane tea will slowly fill your loved-ones' homes this holiday season. This irresistible compilation of treats, jams and libations will not only bring a taste of Canada to a holiday morning, but also help support the reopening of a century-old restaurant with the same old charm and renewed vigor. Created by SweetEvent.ca, this gift box is stocked with local items created by Canadian-owned businesses.1
*Hoito Pancake Mix is supported by RBC Bank in this treat box to raise funds to re-open the landmark Hoito Restaurant in Thunder Bay, Ontario


WHERE: Available in Canada and Contiguous United States2
OFFER AVAILABLE: Monday, November 1st 2021 - Friday, November 19th 2021
PACKAGE FOR ONE (1) GIFT BOX3 INCLUDES:
One (1) Authentic Hoito Pancake Mix (475

grams

) 
One (1) White Chocolate Cranberry Shortbread Cookies (140 grams)
One (1) Candy Cane Tea [Served Hot, Cold or with Alcohol] (80 grams)
One (1) Donini's White Chocolate with Cranberry and Lemon

 

(100 grams)

One (1) Greaves Pure Ontario Peach Jam (64 ml)
One (1) Jakeman's Maple Syrup (250 ml)


Two (2) Baltic Birch Laser Engraved Holiday Napkin Rings
Two (2) Handmade Neutral Rose Linen Napkins
PACKAGE PRICE FOR ONE (1) GIFT BOX: $54.00 (USD) plus applicable taxes (free shipping)4
One thousand (1000) packages are available on a first come, first served basis. There is a limit of five (5) boxes per Client.
All orders received by November 19th, 2021 will be delivered on or around December 17th, 2021 or earlier4
Terms & Conditions 
1 Total Client purchase amount must be charged in full to an RBC Card.  Packages may not be transferable and should not be resold. No refunds and no exchanges subject to merchant's obligations under applicable law..
2 Packages available for purchase and delivery in the following Canadian Provinces and Territories: Alberta, British Columbia, Manitoba, New Brunswick, Newfoundland, Northwest Territories, Nova Scotia, Nunavut, Ontario, Prince Edward Island, Quebec, Saskatchewan and Yukon and in the 48 Contiguous United States (excluding Hawaii and Alaska).

3 Brands listed are subject to change and availability without notice. In the event of product unavailability of a certain item, substitutions, which may include brand substitutions may apply and item will be replaced with an equal value item.
4 Most packages ordered will be shipped through Canada Post or USPS, although we reserve the right to use any carrier for fulfillment. Shipping times are not guaranteed due to the Covid-19 pandemic. SweetEvent.ca will make best efforts to ensure the gift box arrives according to the timeframe listed above.
RBC Bank is not responsible for the fulfillment of this offer.
Warning: Food Allergens May Be Present
Unless otherwise mentioned, our food may contain traces or have come in contact with variety of allergens. such as peanuts, tree nuts, various seeds, eggs, wheat, soy, dairy products and others. These foods may also contain gluten.
Common Allergen In This Product