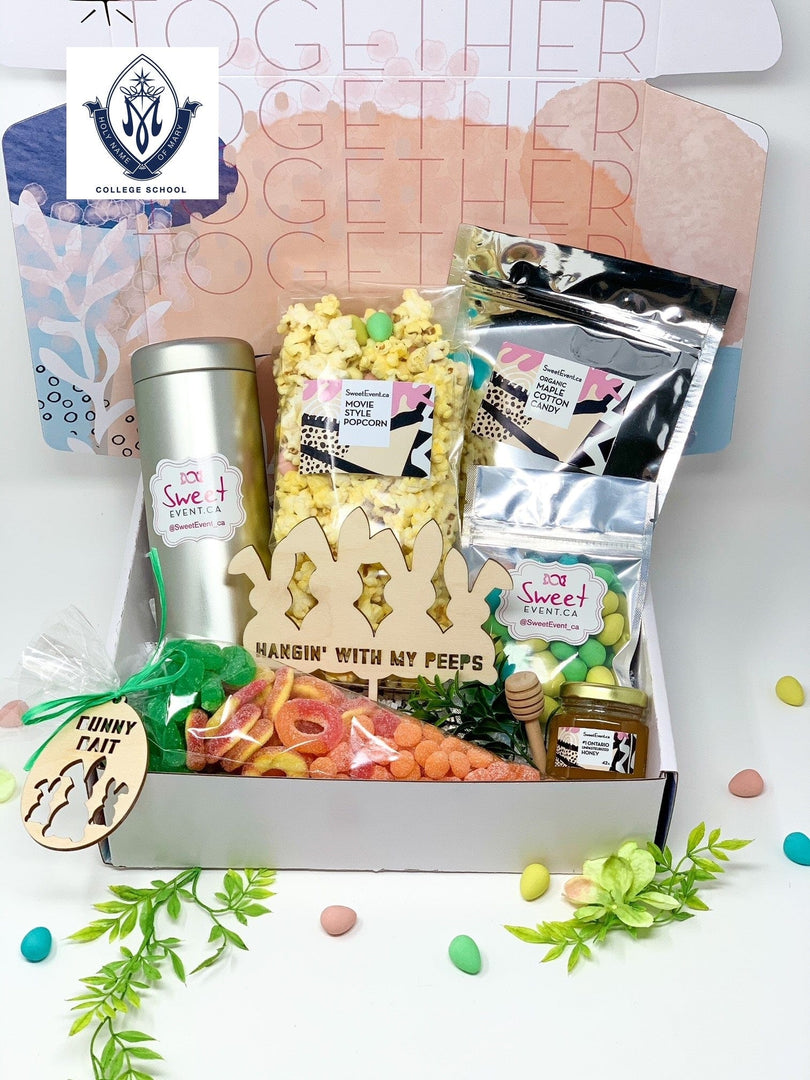 Capture your imagination with the "Bunny Bait" HNMCS fundraising Easter gift box. It's designed as a symbol of renewal that celebrates the end of Lent and winter with a delightful taste of spring. Carefully curated by SweetEvent.ca, this box pays tribute to springtime's riot of colour as you cradle a cup of our refreshing "Bloomin' Spring" Green Tea while tasting chocolates, popcorn and other yummies. You'll love sampling our local #1 Ontario Honey & unique Organic Maple Syrup Cotton Candy. The Laser Engraved bunny Cake/Pie accessory "TOPS" things off perfectly.
It's the perfect gift for loved ones when we can't be together in person.
Twenty Dollars (20$) of each box goes directly to Holy Name of Mary College School and it includes products from many Canadian-owned businesses in support of #CanadaUnited. 1

WHERE: Available across Canada2
PURCHASE WINDOW FOR THIS OFFER: Monday, Feb 22nd, 2021 – Monday, March 22nd, 2021
PACKAGE FOR ONE (1) GIFT BOX3 INCLUDES:
One (1) Wooden Laser Engraved Wooden Cake Topper / Keepsake on Baltic Birch (Hangin' With My Peeps)

One (1) Loose Leaf "Bloomin' Spring" Pomegranate Green Tea (80 grams)
One (1) bag of Movie Style Popcorn (60 grams)


One (1) bag of Cadbury Chocolates (75 grams)

One (1) bag of "Bunny Bait" Candies (incl. engraved tag) (300 grams)

One (1) Pure Maple Cotton Candy (30 grams)

One (1) wooden honey dipper
One (1) jar of Ontario unpasteurized "hive to door" honey (42 grams)
PACKAGE PRICE FOR ONE (1) GIFT BOX: $59.95 (CAD) plus applicable taxes (free shipping)4
ONLY three hundred (300) packages are available on a first come, first served basis. There is a limit of five (5) boxes per Client.
All orders received by March 22nd, 2021 will be delivered on or around April 2nd, 2021 or earlier4
Ingredients
Chocolate Eggs:
Made in Peanut Free Facility
Sugars, cocoa butter, milk powder, unsweetened chocolate, skim milk powder, soy lecithin, natural flavour, spirulina extract, turmeric extract, red beet juice, titanium dioxide. May Contain: Egg , Wheat.
Movie style Popcorn:
Buttersalt (NFD – No Food Dye)
Ingredients: Salt, artificial flavour, riboflavin. (Contains highly refined soy oil, contains no added or manufactured diacetyl; May contain traces of dairy and sulphites)
"Bloomin' Spring" Pomegranate Green Tea:
Sencha Green tea , with Pomegranate flavouring, Marigold petals and Rose petals
Mixed Candy:
Green Gummy - Corn syrup, sugar, gelatin, citric acid, natural and artificial flavours, mineral oil, sodium citrate, colour
Peach Slices - Sugar, modified corn starch, citric acid, tataric acid, sodium citrate, lactic acid, natural and artificial flavours, calcium lactate, tartarzine, colour, hydrogenated palm oil.

Cotton Candy:
Organic Maple Sugar and Organic Cane Sugar


Terms & Conditions
1 Packages may not be transferable and should not be resold. No refunds and no exchanges subject to merchant's obligations under applicable law..
2 Packages available for purchase and delivery in Alberta, British Columbia, Manitoba, New Brunswick, Newfoundland, Northwest Territories, Nova Scotia, Nunavut, Ontario, Prince Edward Island, Quebec, Saskatchewan and Yukon.

3 Brands listed are subject to change and availability without notice. In the event of product unavailability of a certain item, substitutions, which may include brand substitutions may apply and item will be replaced with an equal value item.
4 Most packages ordered will be shipped through Local Couriers or Canada Post although we reserve the right to use any carrier for fulfillment to get around Covid-19 delays. Shipping times ARE NOT guaranteed due to the Covid-19 pandemic. SweetEvent.ca will make BEST EFFORTS (we will try our hardest) to ensure gift box arrives in time for Easter according the time-frame listed above.